DELIVERING PREMIUM VR AND GAMING EXPERIENCES BEYOND HD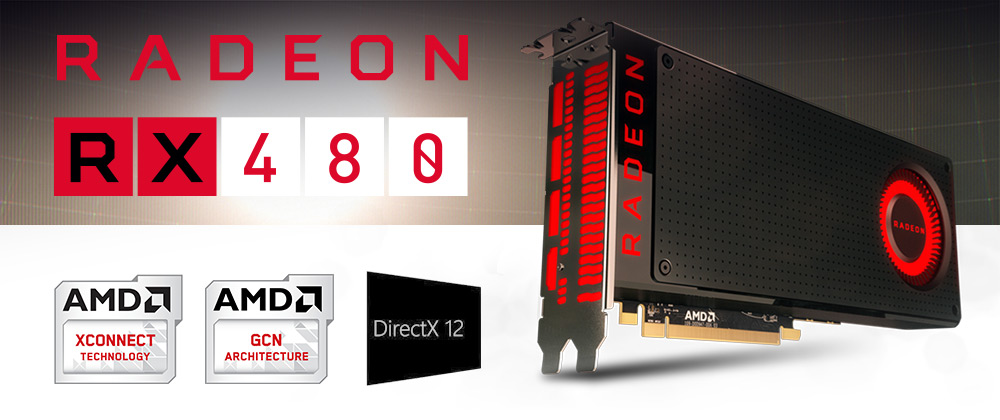 Premium VR experience
Experience beautifully rich and immersive VR experiences with advanced comfort and effortless compatibility. Avoid nausea and motion sickness, made possible by the AMD Liquid VR initiative, featuring ground breaking Asynchronous shaders. The SAPPHIRE Radeon RX 480 graphics card combined with AMD Liquid VR technology already in use by leading head-mounted display(HMD) vendors, provides an exceptional platform for a fully immersive and comfortable VR experience.

Gamer optimized
Prepared for future games
Get ready for a whole new level of gaming at 1440p with the SAPPHIRE Radeon RX 480 graphics card. Powerful Async shaders and new geometry capabilities enable unique support for DirectX 12 and Vulkan in the best version of Graphics Core Next yet.


Smooth Gaming
Every PC gamer knows how incredibly smooth gaming can be at a steady 60+ FPS. Now you can have that low-latency experience at virtually any framerate with AMD FreeSync technology.


Premium Gaming Streaming
Radeon GPUs based on the Polaris architecture are a dream for anyone that's serious about streaming and recording their favorite game : 4K, H.265, 60 FPS, virtually no performance impact.

Future Ready Technologies
Cool Efficiency
The Polaris architecture precisely combines the latest FinFET 14 process technology and AMD's advanced power, gating and clocking technologies for a superior cool and quite gaming experience.


Quiet Gaming
The latest SAPPHIRE Radeon RX 480 GPUs offer silent gaming features that dynamically optimizes sound volumes based on actual temperature and workloads.


Premium HDR
High Dynamic Range(HDR vastly expands the range of colors and contrast ratios that can be shown by compatible display. HDR ready games and movies played on an HDR display appear strikingly sharp, colorful, and vivid, with enhanced contras and sophisticated nuance compared to even the most stunning SDR content.

The SAPPHIRE Radeon RX 480 graphics card's brand new display engine and HDR ready capabilities equip you for the new wave of HDR displays, content and the future of gaming.

Game Changing Control
Radeon software
Radeon software drivers enable the ultimate in performance, features and stability to ensure an exceptionally smooth and fast out-of-box experience, and one that can get better with future updates


Radeon WattMan (formerly AMD overdrive)
Push your hardware to limits. Radeon settings takes customization to a whole new level with per state control over clocks, voltages and temperature.


1st day Driver Support
Radeon software features planned up-to the minute game optimizations for performance enhancements and stability improvements