SAPPHIRE Radeon™ RX 470 4G D5 OC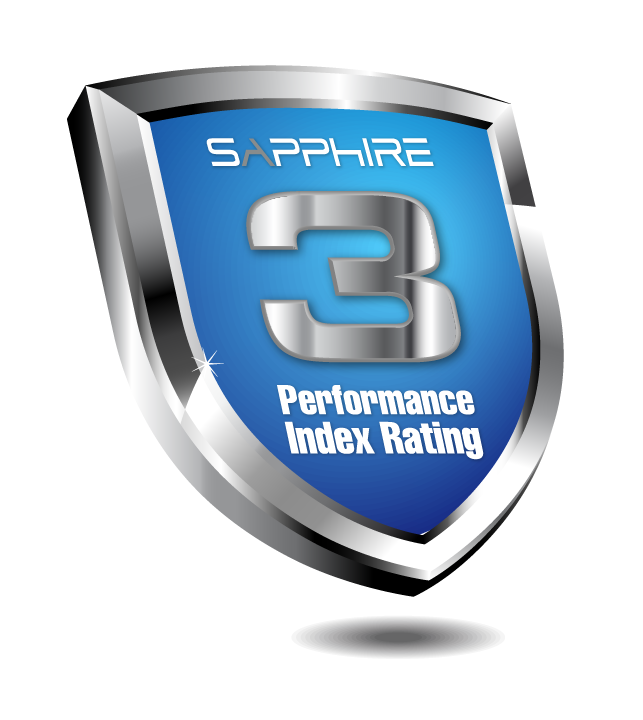 The SAPPHIRE Radeon™ RX 470 is the next big thing in mainstream 1080p gaming. Compared to the previous R9 270 generation GPU, playing on the RX 470 means performance up to 2.4x better in latest titles such as Total War: WARHAMMER or DOOM. Engineered with power savings in mind, the 4th generation Graphics Core Next chip maintains the typical board power of around 170 W. Polaris-powered GPU-s also mean improved geometry engine, increased cache and native asynchronous shaders for unmatched efficiency in DirectX 12.
Controle Objetivo da Taxa de Quadro
Controle Objetivo da Taxa de Quadro (FRTC) habilita o usuário a escolher uma taxa máxima de quadro quando estiver jogando um aplicativo em tela cheia, o benefício alcançado com FRTC pode reduzir o consumo de energia da GPU (ótimo para jogos que rodam quadros acima da taxa de atualização do display) e por consequência reduzir o aquecimento e o barulho criado pelas ventoinhas da placa de vídeo.
Controle Objetivo da Taxa de Quadro aumenta a performance não somente em cenas de jogos renderizados em 3D, mas também em telas iniciais, de carregamento ou menus, onde a taxa de quadros pode rodar desnecessariamente em centenas de quadros por segundo. Usuários desejarão um acerto alto para aumentar o limite de desperdício da taxa de quadros como vistos nos menus ou similares, enquanto tiram vantagem da capacidade de resposta oferecida da taxa de quadros bem além de 60.
---
DirectX® 12

DirectX® 12 is a new, "console-like" graphics API from Microsoft® that empowers game developers with more direct and obvious control of PC hardware. This direct or "explicit" control better exposes the hardware resources of AMD Radeon™ GPUs to yield higher hardware throughput and, ultimately, more performance for users. To put it simply: much more efficient hardware through smarter software! At the discretion of a game developer, this superior efficiency can be spent on higher framerates, lower latency (VR), lower power consumption, better image quality, or some calculated balance of all four. In any scenario, gamers stand to benefit greatly from choosing AMD hardware to run their favorite DirectX® 12 game.
---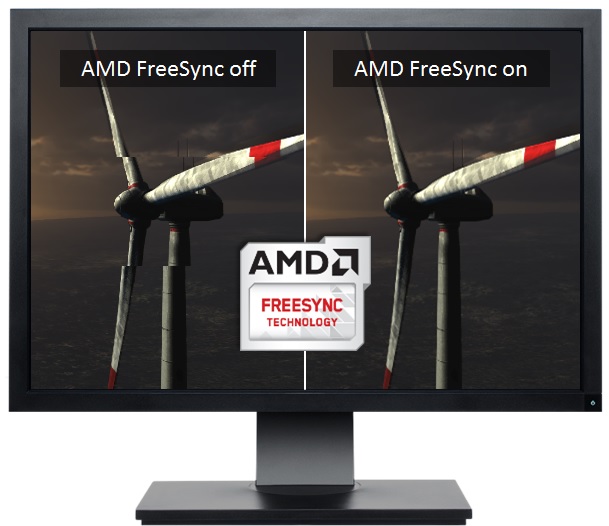 AMD Freesync technology
No stuttering. No tearing. Just gaming.
AMD FreeSync™ technology allows a compatible graphics card and monitor to dynamically change frame rates for the optimum display quality without tearing or stuay.
Industry-Standard Displayport
Freesync uses industry-standard displayport Adaptive-Sync Eliminates screen tearing without all the usual lag and latency
Synchronizes the refresh rate of a compatible monitor to the frame rate of your content, however much it varies
Monitor partners are validating with drivers from AMD now
---
Suporte AMD XConnect
Conecte e jogue com a tecnologia AMD XConnect.
Agora ficou mais fácil do que nunca conectar e usar uma placa gráfica Radeon externa. Com a tecnologia AMD XConnect™ , Gpu externa montada com gráficos Radeon podem ser conectados ou desconectados fácilmente em um notebook ultra fino ou 2 em 1 ou através do Thunderbolt™ 3 a qualquer instante, como se fosse um flash drive USB— o primeiro para GPUs externas!
---
AMD Eyefinity Technology
Multidisplay technology for gaming, productivity and entertainment
We are taking you beyond the boundaries of traditional PC displays. AMD Eyefinity technology expands the traditional limits of desktop computing by multiplying your screen area. With multiple monitors, games become more immersive, workstations become more useful and you become more productive (an average of 42% more productive according to one study).
Take your PC games to the next level of reality and immersion. Most modern games look great on three screens, and only AMD Radeon™ graphics offer you the ability to play across five screens for an eye-popping gaming experience. Other combinations and configurations with up to six screens work too.1 Create your dream display.
---
Introducing AMD LiquidVR
LiquidVR™ is an AMD initiative dedicated to making VR as comfortable and realistic as possible by creating and maintaining what's known as "presence" — a state of immersive awareness where situations, objects, or characters within the virtual world seem "real." Guided by close collaboration with key technology partners in the ecosystem, LiquidVR™ uses AMD's GPU software and hardware sub-systems to tackle the common issues and pitfalls of achieving presence, such as reducing motion-to-photon latency to less than 10 milliseconds. This is a crucial step in addressing the common discomforts, such as motion sickness, that may occur when you turn your head in a virtual world and it takes even a few milliseconds too long for a new perspective to be shown.

---
Super Resolução Virtual
Super Resolução Virtual (VSR) é um destaque da AMD que simula o Super-Sampling Anti-Aliasing (SSAA) em jogos que não dispõe do suporte nativo para SSAA. A VSR também pode ser usada junto com outro anti-aliasing nativo para controlar mais opções de ajustes dentro do jogo. VSR permite aos jogos renderizar em altas resoluções (até 4K; confira a tabela de 'Super Resolução Virtual', abaixo) e depois compare com uma tela de baixa resolução. Usando isto, você terá a qualidade que compete até com 4K, mesmo que sua tela esteja em 1080p enquanto estiver rodando seus jogos prediletos.
---
Suporte HDR
Alto Alcance Dinâmico (HDR) é a inovação tecnológica para gamers e cinéfilos que realmente se importam com a qualidade do display de seu monitor ou TV. Elaborado para atuar após a acuidade da visão humana, o HDR expande vastamente a gama de cores e as taxas de contraste que podem ser exibidos em displays compatíveis. Suporte HDR em jogos e filmes usados em displays HDR mostram precisão contundente, maior coloração, e realismo, com aprimorado contraste e nuance sofisticada se comparado ao mais impressionante conteúdo SDR.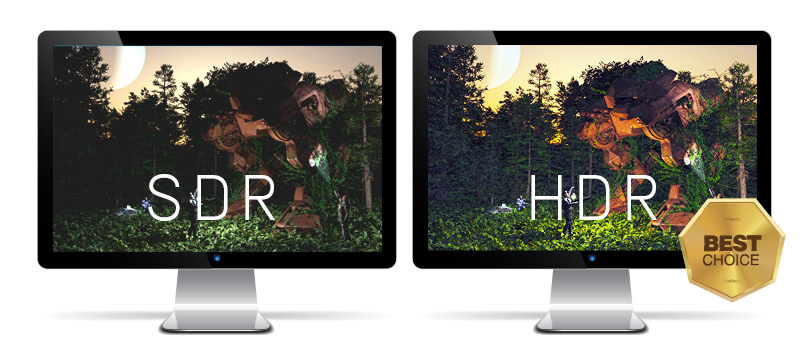 ---
GPU
2048 Stream Processors
14 nm FinFET
4th Graphics Core Next (GCN)
932 MHz Engine Clock
1216 MHz Boost Engine Clock
Interface
PCI-Express 3.0
Memória
256 bit Memory Bus
GDDR5 Memory Type
1750 MHz Effective Memory Clock
4 GB Size
Suporte BIOS
UEFI BIOS
Monitores
Maximum 4 Outputs
Saída
1 x HDMI 2.0b
3 x DisplayPort 1.4

Resolução
3840x2160 (120Hz) Pixel DisplayPort Resolution
3840×2160p (60 Hz) HDMI Resolution
API
OpenGL® 4.5
OpenCL 2.0
DirectX® 12
Shader Model 5.0
Destaque
AMD CrossFire
FreeSync Technology
AMD Eyefinity
AMD Liquid VR Technology
AMD Virtual Super Resolution(VSR)
AMD TrueAudio™ Next Technology
Dolby® TrueHD and DTS-HD Master Audio™ Support
AMD Xconnect ready
Universal Video Decoder (UVD)
DirectX™ 12 Optimized
HDR Ready
Frame Rate Target Control

Refrigeração
Blower

Tipo de Forma
2 Part Slot Occupied
242.5(L)X 111.5(W)X 41 (H)mm Dimension /mm
Consumo de Energia
<150W
SO
Windows 10 Windows 7 
Requisitos mínimos
500 Watt Power Supply (Suggestion)
1 x 6-pin AUX Power Connector
CD-ROM or DVD-ROM drive for installing software
PCI Express® based PC is required with one X16 lane graphics slot available on the motherboard.

Acessórios
As especificações providenciadas aqui são apenas para referência, Por favor consulte seu distribuidor regional ou lojista para as especificações mais atuais.
As cores do PCB e outros componentes podem variar das que estão ilustradas.
SAPPHIRE reserva o direito de atualizar ou revisar as especificações sem aviso prévio.
Todas as marcas registradas e logos reconhecidas como propriedade de seus respectivos titulares.
Driver Oficial AMD Radeon
Obtenha o mais recente Driver Oficial Radeon utilitário da AMD
Última versão
Recomendamos para os sistemas que rodam Microsof Windows que obtenham o] mais recente driver para produtos Gráficos AMD
Windows Vista Windows 7 Windows 8/8.1 Windows 10
AMD Radeon Software
AMD Radeon Software Crimson Relive Edition 17.11.1 Driver for Windows® 7 64-bit​
17.40.1031

Bullets for the new driver:

12 GPU support
Software switch for Blockchain compute vs. Gaming optimized performance.
Continuous performance improvements

Article Number: RN-WIN-RADEONCRIMSONRELIVE-17.11.1

​​​Radeon™ Software Crimson ReLive Edition is AMD's advanced graphics software for enabling high-performance gaming and engaging VR experiences. Create, capture, and share your remarkable moments. Effortlessly boost performance and efficiency. Experience Radeon Software with industry-leading user satisfaction, rigorously-tested stability, comprehensive certification, and more.

Radeon Software Crimson ReLive Edition 17.11.1 Highlights

Support For

Call of Duty®: WWII

Up to 5% faster performance on Radeon™ RX Vega64 (8GB) graphics than with Radeon Software Crimson ReLive Edition 17.10.3 at 2560x1440. (1)

AMD XConnect™ Technology

Now supported on Radeon RX Vega56 series graphics products for select eGPU enclosures.

Fixed Issues

Radeon Software may intermittently cause an application crash on limited numbers of DirectX®11 or OpenGL applications on their first run.
Some gaming or productivity applications may experience a random hang or application crash when performing task switching.
Radeon WattMan reset and restore factory default options may not reset graphics or memory clocks.
​Oculus™ Dash may experience a random application hang.
Bezel compensation in mixed mode Eyefinity cannot be applied.
Radeon Settings may experience overlapping text or corruption in the Multi GPU profiles page.
Tom Clancy's Ghost Recon®: Wildlands may experience minor corruption with Anisotropic Filtering (AF) enabled.
Middle-earth™: Shadow of War™ may experience ghosting or distortion in gameplay on Multi GPU enabled system configurations.
AMD XConnect™ Technology products may not be detected/enabled on reconnection if previously disconnected during system sleep
A limited number of system devices such as printers may be removed during Radeon Software uninstallation.

Known Issues

Some desktop productivity apps may experience latency when dragging or moving windows.
Tom Clancy's Rainbow Six® Siege may experience an application hang when breaching walls with grenades or explosives.
Rise of the Tomb Raider™ may experience an intermittent application hang during gameplay.
A random system hang may be experienced after extended periods of use on system configurations using 12 GPU's for compute workloads.
The GPU Workload feature may cause a system hang when switching to Compute while AMD CrossFire is enabled. A workaround is to disable AMD CrossFire before switching the toggle to Compute workloads.
Resizing the Radeon Settings window may cause the user interface to stutter or exhibit corruption temporarily.
Unstable Radeon WattMan profiles may not be restored to default after a system hang.
OverWatch™ may experience a random or intermittent hang on some system configurations. Disabling Radeon ReLive as a temporary workaround may resolve the issue.

Footnotes

​

Testing conducted by AMD Performance Labs as of November 1st, 2017 on the 8GB Radeon RX Vega64, on a test system comprising of Intel i7 7700X CPU (4.2 GHz), 16GB DDR4-3000 Mhz system memory, and Windows 10 x64 using the game Call of Duty®: WWII on the highest game presets. PC manufacturers may vary configurations, yielding different results. At 2560x1440, the Radeon RX Vega64 scored 120.6 FPS with Radeon Software 17.10.3 whereas the Radeon RX Vega64 scored 129.6 FPS with Radeon Software 17.11.1. Performance may vary based on use of latest drivers.(1)

Package Contents


The Radeon Software Crimson ReLive Edition 17.11.1 installation package contains the following:

Radeon Software Crimson ReLive Edition 17.11.1 Driver Version 17.40.1031 (Windows Driver Store Version 23.20.788.0​)

File Size: 440MB

Windows 7 (64-bit)
AMD Radeon Software Crimson Relive Edition 17.11.1 Driver for Windows® 10 64-bit​
17.40.1031

Bullets for the new driver:

12 GPU support
Software switch for Blockchain compute vs. Gaming optimized performance.
Continuous performance improvements

Article Number: RN-WIN-RADEONCRIMSONRELIVE-17.11.1

​​​Radeon™ Software Crimson ReLive Edition is AMD's advanced graphics software for enabling high-performance gaming and engaging VR experiences. Create, capture, and share your remarkable moments. Effortlessly boost performance and efficiency. Experience Radeon Software with industry-leading user satisfaction, rigorously-tested stability, comprehensive certification, and more.

Radeon Software Crimson ReLive Edition 17.11.1 Highlights

Support For

Call of Duty®: WWII

Up to 5% faster performance on Radeon™ RX Vega64 (8GB) graphics than with Radeon Software Crimson ReLive Edition 17.10.3 at 2560x1440. (1)

AMD XConnect™ Technology

Now supported on Radeon RX Vega56 series graphics products for select eGPU enclosures.

Fixed Issues

Radeon Software may intermittently cause an application crash on limited numbers of DirectX®11 or OpenGL applications on their first run.
Some gaming or productivity applications may experience a random hang or application crash when performing task switching.
Radeon WattMan reset and restore factory default options may not reset graphics or memory clocks.
​Oculus™ Dash may experience a random application hang.
Bezel compensation in mixed mode Eyefinity cannot be applied.
Radeon Settings may experience overlapping text or corruption in the Multi GPU profiles page.
Tom Clancy's Ghost Recon®: Wildlands may experience minor corruption with Anisotropic Filtering (AF) enabled.
Middle-earth™: Shadow of War™ may experience ghosting or distortion in gameplay on Multi GPU enabled system configurations.
AMD XConnect™ Technology products may not be detected/enabled on reconnection if previously disconnected during system sleep
A limited number of system devices such as printers may be removed during Radeon Software uninstallation.

Known Issues

Some desktop productivity apps may experience latency when dragging or moving windows.
Tom Clancy's Rainbow Six® Siege may experience an application hang when breaching walls with grenades or explosives.
Rise of the Tomb Raider™ may experience an intermittent application hang during gameplay.
A random system hang may be experienced after extended periods of use on system configurations using 12 GPU's for compute workloads.
The GPU Workload feature may cause a system hang when switching to Compute while AMD CrossFire is enabled. A workaround is to disable AMD CrossFire before switching the toggle to Compute workloads.
Resizing the Radeon Settings window may cause the user interface to stutter or exhibit corruption temporarily.
Unstable Radeon WattMan profiles may not be restored to default after a system hang.
OverWatch™ may experience a random or intermittent hang on some system configurations. Disabling Radeon ReLive as a temporary workaround may resolve the issue.

Footnotes

​

Testing conducted by AMD Performance Labs as of November 1st, 2017 on the 8GB Radeon RX Vega64, on a test system comprising of Intel i7 7700X CPU (4.2 GHz), 16GB DDR4-3000 Mhz system memory, and Windows 10 x64 using the game Call of Duty®: WWII on the highest game presets. PC manufacturers may vary configurations, yielding different results. At 2560x1440, the Radeon RX Vega64 scored 120.6 FPS with Radeon Software 17.10.3 whereas the Radeon RX Vega64 scored 129.6 FPS with Radeon Software 17.11.1. Performance may vary based on use of latest drivers.(1)

Package Contents


The Radeon Software Crimson ReLive Edition 17.11.1 installation package contains the following:

Radeon Software Crimson ReLive Edition 17.11.1 Driver Version 17.40.1031 (Windows Driver Store Version 23.20.788.0​)

File Size: 404MB

Windows 10 (64-bit)
AMD Radeon Software Crimson Edition 17.7.1 Driver for Windows® 8.1 64-bit​
17.10.3211.1031

Article Number: RN-WIN-RADEONCRIMSONRELIVE-17.7.1

​Radeon Software Crimson ReLive Edition is AMD's advanced graphics software for enabling high-performance gaming and engaging VR experiences. Create, capture, and share your remarkable moments. Effortlessly boost performance and efficiency. Experience Radeon Software with industry-leading user satisfaction, rigorously-tested stability, comprehensive certification, and more.

Radeon Software Crimson ReLive Edition 17.7.1 Highlights

Support For

Radeon RX 460/470 Series Graphics-based mining cards
Radeon RX 550/560 Series Graphics

Fixed Issues

Fixed a bug causing crashes on Tekken 7 (Chapter 5) on Radeon RX 380 Series graphics products.
Fixed a bug causing crashes on FFXIV and Little Nightmares on Radeon RX 300 Series graphics products.
Fixed an issue causing crashes with Adobe Lightroom CC 2015.10

Known Issues

Graphical corruption may be experienced in Tom Clancy's™: Rainbow Six Siege when MSAA is enabled.
A small number of apps may experience issues with Borderless Fullscreen mode and AMD FreeSync™ technology if other applications or game launchers are running on the primary screen in the background.
Counter-Strike™: Global Offensive and World of Warcraft™ may experience flickering or performance issues the first time the game is launched on a system boot with AMD FreeSync™ technology enabled. Workarounds include exiting and restarting the application or task switching (alt+tab) in and out of the game to fix the issue.
Tekken 7 may experience a crash (Chapter 13) on some Radeon RX 380 Series graphics products.

Known Issues for Radeon ReLive

The XBOX™ DVR application may cause conflicts with Radeon ReLive, users are suggested to disable XBOX™ DVR if Radeon ReLive is experiencing issues
Radeon ReLive may fail to install on AMD APU Family products or experience a system hang or failure to record when using the recording feature on AMD APU Family products.
Radeon ReLive may intermittently fail to work after performing task switches of applications. A work around is to disable and then enable the feature in Radeon Software.
Radeon ReLive may exhibit corruption in recordings when capturing Microsoft Office applications.
Radeon ReLive may experience recording or streaming issues when task switching using ALT+TAB.

File Size: 400MB

Windows 8.1 (64-bit)
Mostrar tudo Download
Utility
SAPPHIRE TriXX OC Utility
v6.4.0

Added support for Radeon RX500 Series.
Added power & stealth mode function for RX 500 series. In power mode you gain higher performance for more demanding gaming experience , in stealth mode we bring you balance in gaming experience and power saving.
Fixed fan control in CrossFire mode.
Fixed fan test in CrossFire mode.

File Size: 2MB

Windows 7 (32-bit) Windows 7 (64-bit) Windows 8.1 (32-bit) Windows 8.1 (64-bit) Windows 10 (32-bit) Windows 10 (64-bit)