SAPPHIRE Radeon™ Dual-X R7 370 2G D5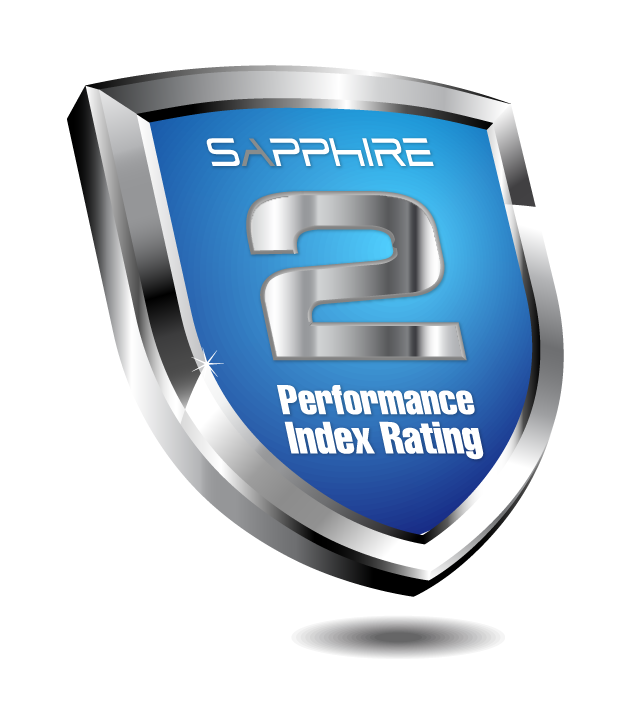 The SAPPHIRE Radeon™ Dual-X R7 370 features our award winning Dual-X cooler. Based on the latest GCN architecture from AMD, the SAPPHIRE Radeon™ Dual-X R7 370 supports DirectX 12 and AMD VSR. With a 2GB frame buffer the SAPPHIRE Dual-X R7 370 is a great general purpose graphics accelerator for work or play. With a SAPPHIRE Performance Index of 2 it is guaranteed to deliver a great gaming experience at 1080p and beyond
Frame Rate Target Control
Frame Rate Target Control (FRTC) enables users to set a target maximum frame rate when playing an application in full screen mode; the benefit being that FRTC can reduce GPU power consumption (great for games running at frame rates much higher than the display refresh rate) and therefore reduce heat generation and fan speeds/noise on the graphics card.
Frame Rate Target Control caps performance not only in 3D rendered in-game scenes, but also in splash screens, loading screens and menus, where frame rates can often run needlessly into the hundreds of FPS. Users might wish to set a very high cap just to limit wasteful FPS like that seen in menus and such, while still taking advantage of the responsiveness given by FPS well beyond 60.
---
DirectX® 12

DirectX® 12 is a new, "console-like" graphics API from Microsoft® that empowers game developers with more direct and obvious control of PC hardware. This direct or "explicit" control better exposes the hardware resources of AMD Radeon™ GPUs to yield higher hardware throughput and, ultimately, more performance for users. To put it simply: much more efficient hardware through smarter software! At the discretion of a game developer, this superior efficiency can be spent on higher framerates, lower latency (VR), lower power consumption, better image quality, or some calculated balance of all four. In any scenario, gamers stand to benefit greatly from choosing AMD hardware to run their favorite DirectX® 12 game.
---
AMD Eyefinity Technology
Multidisplay technology for gaming, productivity and entertainment
We are taking you beyond the boundaries of traditional PC displays. AMD Eyefinity technology expands the traditional limits of desktop computing by multiplying your screen area. With multiple monitors, games become more immersive, workstations become more useful and you become more productive (an average of 42% more productive according to one study).
Take your PC games to the next level of reality and immersion. Most modern games look great on three screens, and only AMD Radeon™ graphics offer you the ability to play across five screens for an eye-popping gaming experience. Other combinations and configurations with up to six screens work too.1 Create your dream display.
---
AMD Crossfire™
Harness the power of multiple GPUs
AMD CrossFire™ technology is the ultimate multi-GPU performance gaming platform. Unlocking game-dominating power, AMD CrossFire™ harnesses the power of two or more discrete graphics cards working in parallel to dramatically improve gaming performance.1 AMD CrossFire™ technology ready graphics cards fit practically every budget. With the flexibility to combine two, three or four GPUs, AMD CrossFire™ technology is the perfect solution for those who demand extreme performance.
---
Enhanced Unified Video Decoder 3 (UVD 3)
Watch the hottest Blu-ray movies or other HD content at full 1080p (and beyond !) display resolution. Enjoy a feature rich video experience with enhanced Unified Video Decoder 3 (UVD 3), offloading the bulk of the video decoding tasks from the CPU to the GPU allowing for a cooler, quieter and more balanced system.
---
GPU
1024 Stream Processors
28 nm
Graphics Core Next (GCN)
985 MHz Engine Clock

Interface
PCI-Express 3.0
Memory
256 bit Memory Bus
GDDR5 Memory Type
5600 MHz, Effective
2 GB Size
BIOS Support
Legacy BIOS
UEFI BIOS
Displays
Maximum 3 Outputs
Output
1 x DVI-I
1 x DVI-D
1 x HDMI
1 x DisplayPort

Resolution
4096X2160 Pixel DisplayPort Resolution
2560x1600 Pixel Dual Link DVI Resolution
1920x1200 Pixel Single Link DVI Resolution
2160P HDMI Resolution
API
OpenGL® 4.5
OpenCL 1.2
DirectX® 12
Shader Model 5.0
Feature
AMD CrossFire
AMD PowerTune
AMD ZeroCore Power Technology
AMD Eyefinity
AMD HD3D Technology
16K Hours Capacitor
Black Diamond Choke
Intelligent Fan Control
AMD Virtual Super Resolution(VSR)
Universal Video Decoder (UVD)

Cooling
Dual-X fans

Form Factor
2 Part Slot Occupied
8.98 x 4.29 x 1.38 Dimension /Inch
228x109x35 Dimension /mm
Power Consumption
150W
OS
Windows 10 Windows 8/8.1 Windows 7 
System Requirement
500 Watt Power Supply (Suggestion)
1 x 6-pin AUX Power Connector
2 x 6-pin AUX Power Connector is required for CrossFireX™ system.
CD-ROM or DVD-ROM drive for installing software
PCI Express® 2.0 or higher version based PC is required with one X16 lane graphics slot available on the motherboard in order for the card to be compatible with.

Specifications provided here are for guidance only. Please check with your regional distributor or dealer for latest specifications.
Colors of PCB or other components may differ from those illustrated.
SAPPHIRE reserves the right to update or revise specifications without prior notice.
All trademarks and logos are acknowledged as the property of their respective holders.
*The terms HDMI, HDMI High-Definition Multimedia Interface, and the HDMI Logo are trademarks or registered trademarks of HDMI Licensing Administrator, Inc.
AMD Official Radeon Driver
Obtain the Latest AMD Radeon Official Driver Utility
Latest Version
Recommend for the systems running Microsoft Windows to obtain the latest official driver for AMD Graphics product. Click on the Download ​link and a web browser prompt should appear. Select Run from the prompt.
Windows Vista Windows 7 Windows 8/8.1 Windows 10
AMD Radeon Software
Radeon Software Adrenalin Edition 18.3.1 Driver for Windows® 10 64-bit​
17.50.27.01

Article Number: RN-WIN-RADEONADRENALIN-18.3.1

Radeon Software Adrenalin Edition 18.3.1 Highlights

Support For

Final Fantasy® XV
Warhammer®: Vermintide II
DOTA®2

Up to 6% faster FPS using Radeon Software Adrenalin Edition 18.3.1 on the Radeon™ RX 580 (8GB) graphics card than with Radeon Software Adrenalin Edition 17.12.1 at 3840x2160 (1440p).RS-218

Fixed Issues

Radeon Chill hotkey may fail to reset when Radeon Settings is restored to defaults.
Sea of Thieves™ may experience an intermittent application hang or crash during gameplay.
Middle-earth™: Shadow of War may experience texture flickering on trees or hills when using multi GPU enabled system configurations.
World of Tanks™ may experience color corruption when changing some game settings in multi GPU enabled system configurations.

Known Issues

A random system hang may be experienced after extended periods of use on system configurations using 12 GPU's for compute workloads.
Destiny 2™ may experience an application hang in the mission "Heist" on some Radeon GCN1.0 products.
Destiny 2™ may experience long load times when the application has been open for long periods of time.
Radeon Overlay may intermittently fail to enable when toggled in some games.
FFmpeg application may experience corrupted output for H264 video streams.
Resizing Radeon Settings may cause the window to intermittently stutter.
Final Fantasy® XV may experience minor stutter during some particle effects. A workaround is to disable the "Geomapping" setting in game.

Footnotes

Testing conducted by AMD Performance Labs as of March 1st, 2018 on the 8GB Radeon RX 580, on a test system comprising of Intel i7 7700K CPU (4.2GHz), 16GB DDR4-3000 Mhz system memory, and Windows 10 x64. PC manufacturers may vary configurations, yielding different results. With Ultra settings on Dota 2 at 3840x2160, the Radeon RX 580 scored 95.9 FPS with Radeon Software 18.3.1 whereas the Radeon RX 580 scored 90.8 FPS with Radeon Software 17.12.1. Comparing FPS between software versions, Radeon Software 18.3.1 has 6% faster performance in Dota 2. Performance may vary based on use of latest drivers. RS-218

File Size: 337MB

Windows 10 (64-bit)
Radeon Software Adrenalin Edition 18.3.1 Driver for Windows® 7 64-bit
17.50.27.01

Article Number: RN-WIN-RADEONADRENALIN-18.3.1

Radeon Software Adrenalin Edition 18.3.1 Highlights

Support For

Final Fantasy® XV
Warhammer®: Vermintide II
DOTA®2

Up to 6% faster FPS using Radeon Software Adrenalin Edition 18.3.1 on the Radeon™ RX 580 (8GB) graphics card than with Radeon Software Adrenalin Edition 17.12.1 at 3840x2160 (1440p).RS-218

Fixed Issues

Radeon Chill hotkey may fail to reset when Radeon Settings is restored to defaults.
Sea of Thieves™ may experience an intermittent application hang or crash during gameplay.
Middle-earth™: Shadow of War may experience texture flickering on trees or hills when using multi GPU enabled system configurations.
World of Tanks™ may experience color corruption when changing some game settings in multi GPU enabled system configurations.

Known Issues

A random system hang may be experienced after extended periods of use on system configurations using 12 GPU's for compute workloads.
Destiny 2™ may experience an application hang in the mission "Heist" on some Radeon GCN1.0 products.
Destiny 2™ may experience long load times when the application has been open for long periods of time.
Radeon Overlay may intermittently fail to enable when toggled in some games.
FFmpeg application may experience corrupted output for H264 video streams.
Resizing Radeon Settings may cause the window to intermittently stutter.
Final Fantasy® XV may experience minor stutter during some particle effects. A workaround is to disable the "Geomapping" setting in game.

Footnotes

Testing conducted by AMD Performance Labs as of March 1st, 2018 on the 8GB Radeon RX 580, on a test system comprising of Intel i7 7700K CPU (4.2GHz), 16GB DDR4-3000 Mhz system memory, and Windows 10 x64. PC manufacturers may vary configurations, yielding different results. With Ultra settings on Dota 2 at 3840x2160, the Radeon RX 580 scored 95.9 FPS with Radeon Software 18.3.1 whereas the Radeon RX 580 scored 90.8 FPS with Radeon Software 17.12.1. Comparing FPS between software versions, Radeon Software 18.3.1 has 6% faster performance in Dota 2. Performance may vary based on use of latest drivers. RS-218

File Size: 461MB

Windows 7 (64-bit)
AMD Radeon Software Crimson Relive Edition 17.11.1 Driver for Windows® 7 64-bit​
17.40.1031

Bullets for the new driver:

12 GPU support
Software switch for Blockchain compute vs. Gaming optimized performance.
Continuous performance improvements

Article Number: RN-WIN-RADEONCRIMSONRELIVE-17.11.1

​​​Radeon™ Software Crimson ReLive Edition is AMD's advanced graphics software for enabling high-performance gaming and engaging VR experiences. Create, capture, and share your remarkable moments. Effortlessly boost performance and efficiency. Experience Radeon Software with industry-leading user satisfaction, rigorously-tested stability, comprehensive certification, and more.

Radeon Software Crimson ReLive Edition 17.11.1 Highlights

Support For

Call of Duty®: WWII

Up to 5% faster performance on Radeon™ RX Vega64 (8GB) graphics than with Radeon Software Crimson ReLive Edition 17.10.3 at 2560x1440. (1)

AMD XConnect™ Technology

Now supported on Radeon RX Vega56 series graphics products for select eGPU enclosures.

Fixed Issues

Radeon Software may intermittently cause an application crash on limited numbers of DirectX®11 or OpenGL applications on their first run.
Some gaming or productivity applications may experience a random hang or application crash when performing task switching.
Radeon WattMan reset and restore factory default options may not reset graphics or memory clocks.
​Oculus™ Dash may experience a random application hang.
Bezel compensation in mixed mode Eyefinity cannot be applied.
Radeon Settings may experience overlapping text or corruption in the Multi GPU profiles page.
Tom Clancy's Ghost Recon®: Wildlands may experience minor corruption with Anisotropic Filtering (AF) enabled.
Middle-earth™: Shadow of War™ may experience ghosting or distortion in gameplay on Multi GPU enabled system configurations.
AMD XConnect™ Technology products may not be detected/enabled on reconnection if previously disconnected during system sleep
A limited number of system devices such as printers may be removed during Radeon Software uninstallation.

Known Issues

Some desktop productivity apps may experience latency when dragging or moving windows.
Tom Clancy's Rainbow Six® Siege may experience an application hang when breaching walls with grenades or explosives.
Rise of the Tomb Raider™ may experience an intermittent application hang during gameplay.
A random system hang may be experienced after extended periods of use on system configurations using 12 GPU's for compute workloads.
The GPU Workload feature may cause a system hang when switching to Compute while AMD CrossFire is enabled. A workaround is to disable AMD CrossFire before switching the toggle to Compute workloads.
Resizing the Radeon Settings window may cause the user interface to stutter or exhibit corruption temporarily.
Unstable Radeon WattMan profiles may not be restored to default after a system hang.
OverWatch™ may experience a random or intermittent hang on some system configurations. Disabling Radeon ReLive as a temporary workaround may resolve the issue.

Footnotes

​

Testing conducted by AMD Performance Labs as of November 1st, 2017 on the 8GB Radeon RX Vega64, on a test system comprising of Intel i7 7700X CPU (4.2 GHz), 16GB DDR4-3000 Mhz system memory, and Windows 10 x64 using the game Call of Duty®: WWII on the highest game presets. PC manufacturers may vary configurations, yielding different results. At 2560x1440, the Radeon RX Vega64 scored 120.6 FPS with Radeon Software 17.10.3 whereas the Radeon RX Vega64 scored 129.6 FPS with Radeon Software 17.11.1. Performance may vary based on use of latest drivers.(1)

Package Contents


The Radeon Software Crimson ReLive Edition 17.11.1 installation package contains the following:

Radeon Software Crimson ReLive Edition 17.11.1 Driver Version 17.40.1031 (Windows Driver Store Version 23.20.788.0​)

File Size: 440MB

Windows 7 (64-bit)
Show All Downloads
Utility
TriXX OC Utility
v5.2.1

TriXX is regularly updated to provide support for new releases of graphics cards and GPU families as well as enhancements to the tool.

New features:

New look and interface
Now supports over-volting on Radeon R300 series
Now supports HBM memory overclock on FURY cards
Now supports over-volt on FURY cards
Minimise TriXX to task bar

File Size: 1MB

Windows 7 (32-bit) Windows 7 (64-bit) Windows 8.1 (32-bit) Windows 8.1 (64-bit) Windows 10 (32-bit) Windows 10 (64-bit)
TriXX OC Utility
V5.0.0

SAPPHIRE TriXX is the optimal overclocking utility for your AMD RADEON™ R200 , R300 and FURY series. The features include

Performance Tune Memory and GPU Clock Speeds
Over and Under Voltage adjustment
Save configurations
Graphical H/W Monitor
H/W log file
Feedback option

File Size: 1MB

Windows 7 (32-bit) Windows 7 (64-bit) Windows 8.1 (32-bit) Windows 8.1 (64-bit)