SAPPHIRE PULSE Radeon™ RX 570 4GD5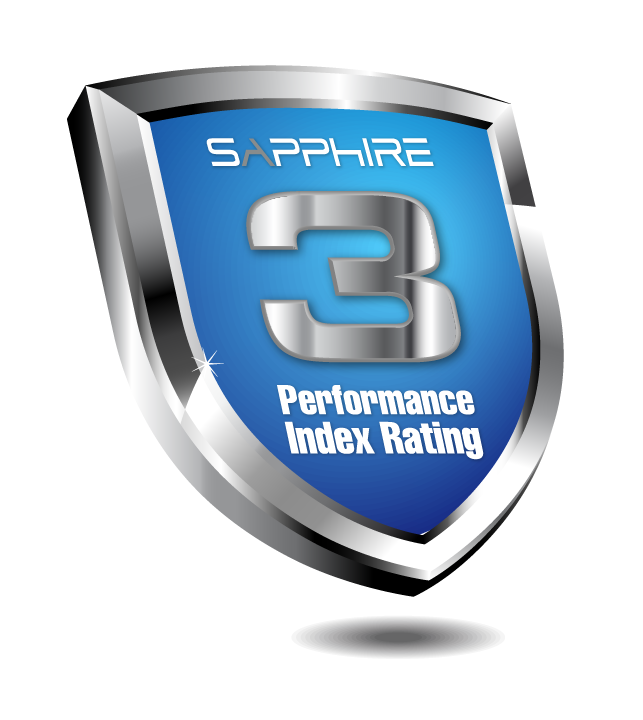 For gamers on a slightly smaller budget, the SAPPHIRE Pulse Radeon RX 570 is the card to pick for smooth 1080p gaming in high details @ 60 FPS. This model is powered by 2048 GCN stream processors that run at a 1284 MHz boost clock. The card is cooled using the quiet Dual-X two-fan solution, with an easy fan swap Quick Connect system in place as well.
Black Diamond Choke 4
Our Black Diamond Chokes are 10% cooler and 25% more power efficient than a normal choke - and these Mark 4 Chokes reduce the coil temperatures by other 15% over the Mark 3s.
These exclusive chokes will maintain gaming stability using their built-in heatsinks and help minimize coil whine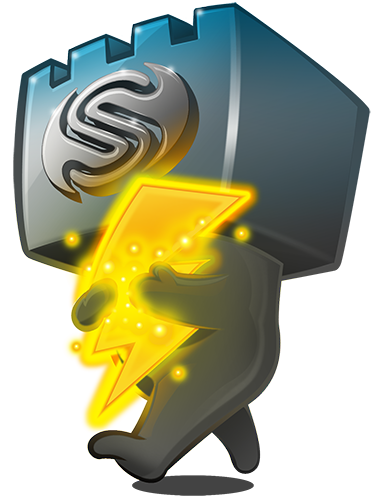 ---
Refrigeração Robusta VRM
As placas SAPPHIRE NITRO+ são desenvolvidas com refrigeração robusta VRM e tem um isolamento térmico de alta condutividade na parte traseira para eliminar o calor de maneira eficaz.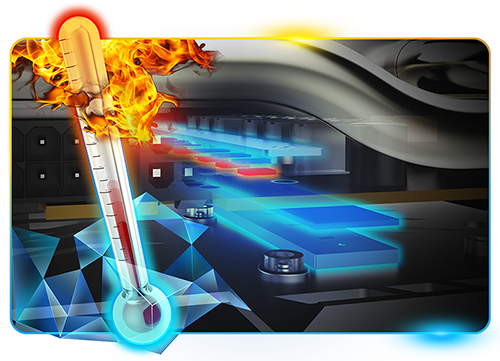 ---
Long life black polymer cap
High quality aluminum-made long life capacitor is not only to extend the component life time, the product reliability and overclocking ability are also improved. When operational temperatures dropped by 20°C, the product life span is going to be extended up to a factor of ten. In addition, when the operational temperature increased by 20°C, the product life span only decreased by 10%.
---
Proteção de Fusível
Para proteger sua placa, a série SAPPHIRE NITRO+ tem uma proteção de fusível montada no circuito do conector externo de energia da PCI-E para resguardar em segurança os componentes da placa.
---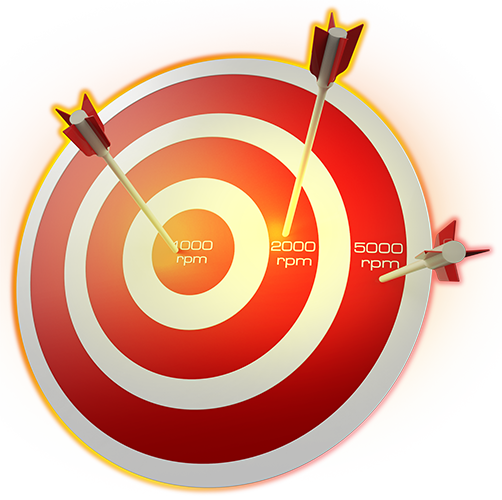 Controle Preciso da ventoinha
Ventoinhas padrão de fábrica tem até 10% de diferença entre seus ciclos de rotação(RPM). Com o novo Controle de Ventoinha IC nas placas SAPPHIRE NITRO +, esta diferença é reduzida a 3%. Esta melhora acertiva de 70% garante em qualquer placa NITRO + a refrigeração e desempenho silencioso sem riscos.
---
NITRO Quick Connect
SAPPHIRE's Quick Connect System provides a quick and easy solution. If there's a fan issue detected, the user doesn't need to return the entire card – SAPPHIRE's partners will send out a replacement fan directly to the customer or the retailer. Please contact your place of purchase to request a fan replacement. SAPPHIRE's channel partner will arrange the ideal solution for you to receive your replacement fan.

---
VR Friendly
The SAPPHIRE NITRO Gaming Series cards come with Dual HDMI ports, specifically designed to work with VR. By having two HDMI ports, you can have both an HD monitor and cutting-edge VR headset running at the same time.
The ports are HDMI 2.0b, the latest update, with an 18Gbps bandwidth, up to 32 audio channels, and is able to support 4K 50/60 resolutions like 2160P, whilst remaining entirely backwards compatible with older HDMI specifications.
---
Controle Objetivo da Taxa de Quadro
Controle Objetivo da Taxa de Quadro (FRTC) habilita o usuário a escolher uma taxa máxima de quadro quando estiver jogando um aplicativo em tela cheia, o benefício alcançado com FRTC pode reduzir o consumo de energia da GPU (ótimo para jogos que rodam quadros acima da taxa de atualização do display) e por consequência reduzir o aquecimento e o barulho criado pelas ventoinhas da placa de vídeo.
Controle Objetivo da Taxa de Quadro aumenta a performance não somente em cenas de jogos renderizados em 3D, mas também em telas iniciais, de carregamento ou menus, onde a taxa de quadros pode rodar desnecessariamente em centenas de quadros por segundo. Usuários desejarão um acerto alto para aumentar o limite de desperdício da taxa de quadros como vistos nos menus ou similares, enquanto tiram vantagem da capacidade de resposta oferecida da taxa de quadros bem além de 60.
---
DirectX® 12

DirectX® 12 is a new, "console-like" graphics API from Microsoft® that empowers game developers with more direct and obvious control of PC hardware. This direct or "explicit" control better exposes the hardware resources of AMD Radeon™ GPUs to yield higher hardware throughput and, ultimately, more performance for users. To put it simply: much more efficient hardware through smarter software! At the discretion of a game developer, this superior efficiency can be spent on higher framerates, lower latency (VR), lower power consumption, better image quality, or some calculated balance of all four. In any scenario, gamers stand to benefit greatly from choosing AMD hardware to run their favorite DirectX® 12 game.
---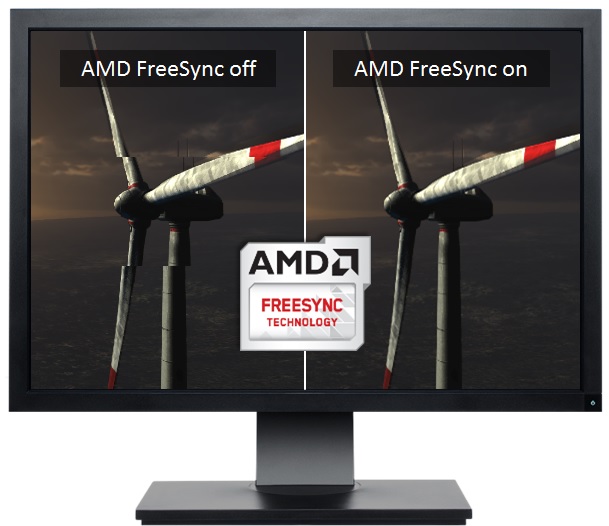 AMD Freesync technology
No stuttering. No tearing. Just gaming.
AMD FreeSync™ technology allows a compatible graphics card and monitor to dynamically change frame rates for the optimum display quality without tearing or stuay.
Industry-Standard Displayport
Freesync uses industry-standard displayport Adaptive-Sync Eliminates screen tearing without all the usual lag and latency
Synchronizes the refresh rate of a compatible monitor to the frame rate of your content, however much it varies
Monitor partners are validating with drivers from AMD now
---
Suporte AMD XConnect
Conecte e jogue com a tecnologia AMD XConnect.
Agora ficou mais fácil do que nunca conectar e usar uma placa gráfica Radeon externa. Com a tecnologia AMD XConnect™ , Gpu externa montada com gráficos Radeon podem ser conectados ou desconectados fácilmente em um notebook ultra fino ou 2 em 1 ou através do Thunderbolt™ 3 a qualquer instante, como se fosse um flash drive USB— o primeiro para GPUs externas!
---
AMD Eyefinity Technology
Multidisplay technology for gaming, productivity and entertainment
We are taking you beyond the boundaries of traditional PC displays. AMD Eyefinity technology expands the traditional limits of desktop computing by multiplying your screen area. With multiple monitors, games become more immersive, workstations become more useful and you become more productive (an average of 42% more productive according to one study).
Take your PC games to the next level of reality and immersion. Most modern games look great on three screens, and only AMD Radeon™ graphics offer you the ability to play across five screens for an eye-popping gaming experience. Other combinations and configurations with up to six screens work too.1 Create your dream display.
---
AMD Crossfire™
Harness the power of multiple GPUs
AMD CrossFire™ technology is the ultimate multi-GPU performance gaming platform. Unlocking game-dominating power, AMD CrossFire™ harnesses the power of two or more discrete graphics cards working in parallel to dramatically improve gaming performance.1 AMD CrossFire™ technology ready graphics cards fit practically every budget. With the flexibility to combine two, three or four GPUs, AMD CrossFire™ technology is the perfect solution for those who demand extreme performance.
---
Suporte HDR
Alto Alcance Dinâmico (HDR) é a inovação tecnológica para gamers e cinéfilos que realmente se importam com a qualidade do display de seu monitor ou TV. Elaborado para atuar após a acuidade da visão humana, o HDR expande vastamente a gama de cores e as taxas de contraste que podem ser exibidos em displays compatíveis. Suporte HDR em jogos e filmes usados em displays HDR mostram precisão contundente, maior coloração, e realismo, com aprimorado contraste e nuance sofisticada se comparado ao mais impressionante conteúdo SDR.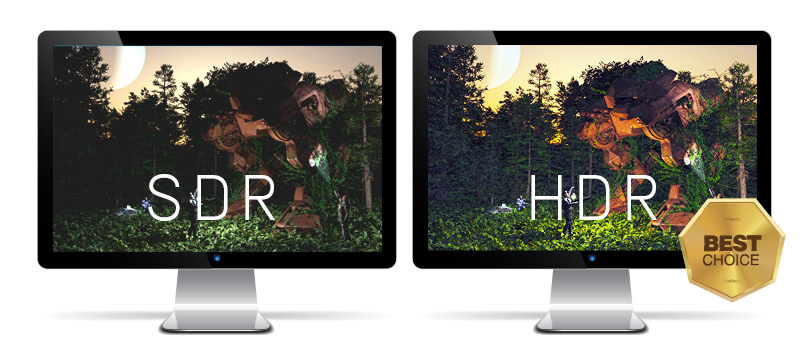 ---
GPU
2048 Stream Processors
14 nm FinFET
4th Graphics Core Next (GCN)
1284 MHz Boost Engine Clock
Memória
256 bit Memory Bus
GDDR5 Memory Type
1750 MHz Effective Memory Clock
4 GB Size
Suporte BIOS
UEFI BIOS
Monitores
Maximum 5 Outputs
Saída
1 x DVI-D
2 x HDMI
2 x DisplayPort 1.4

Resolução
3840x2160 (120Hz) Pixel DisplayPort Resolution
2560x1600 (60Hz) Pixel Dual Link DVI Resolution
3840×2160p (60 Hz) HDMI Resolution
API
OpenGL® 4.5
OpenCL 2.0
DirectX® 12
Shader Model 5.0
Destaque
AMD CrossFire
FreeSync Technology
AMD Eyefinity
AMD Xconnect ready
DirectX™ 12 Optimized
HDR Ready
Frame Rate Target Control
NITRO Quick Connect system
Intelligent Fan Control III
Black Diamond Choke 4
Fuse protection
Radeon Chill
Radeon Relive

Refrigeração
Dual-X fans

Tipo de Forma
2 Part Slot Occupied
230(L)X 125(W)X 40 (H) Dimension /mm
Consumo de Energia
<180W
SO
Windows 10 Windows 7 
Requisitos mínimos
500 Watt Power Supply (Suggestion)
1 x 8-pin AUX Power Connector
Blue-ray™ / HD DVD playback requires Blu-ray / HD DVD drive.
PCI Express® based PC is required with one X16 lane graphics slot available on the motherboard.

Acessórios
As especificações providenciadas aqui são apenas para referência, Por favor consulte seu distribuidor regional ou lojista para as especificações mais atuais.
As cores do PCB e outros componentes podem variar das que estão ilustradas.
SAPPHIRE reserva o direito de atualizar ou revisar as especificações sem aviso prévio.
Todas as marcas registradas e logos reconhecidas como propriedade de seus respectivos titulares.
Driver Oficial AMD Radeon
Obtenha o mais recente Driver Oficial Radeon utilitário da AMD
Última versão
Recomendamos para os sistemas que rodam Microsof Windows que obtenham o] mais recente driver para produtos Gráficos AMD
Windows Vista Windows 7 Windows 8/8.1 Windows 10
AMD Radeon Software
AMD Radeon Software Crimson Edition 17.4.3 Driver for Windows® 7 64-bit​
17.10.1711

Article Number: RN-WIN-RADEONCRIMSONRELIVE-17.4.3

​Radeon Software Crimson ReLive Edition is AMD's advanced graphics software for enabling high-performance gaming and engaging VR experiences. Create, capture, and share your remarkable moments. Effortlessly boost performance and efficiency. Experience Radeon Software with industry-leading user satisfaction, rigorously-tested stability, comprehensive certification, and more.

Radeon Software Crimson ReLive Edition 17.4.3 Highlights

Support for Windows®10 Creators Update.
Support for Radeon RX 580 Series Graphics.
Support for Radeon RX 570 Series Graphics.

Known Issues

Radeon WattMan may fail to apply settings on some Radeon R9 390 series graphics products.
Radeon Settings may crash on switching Windows® user after toggling AMD CrossFire™ technology mode.
A small amount of apps may still experience issues with Borderless Fullscreen mode and AMD FreeSync™ technology if other applications or game launchers are running on the primary screen in the background.
Counter-Strike™: Global Offensive and World of Warcraft™ may experience flickering or performance issues the first time the game is launched on a system boot with AMD FreeSync™ technology enabled. Workarounds include exiting and restarting the application or task switching (alt+tab) in and out of the game to fix the issue.

Known Issues for Radeon ReLive

The XBOX™ DVR application may cause conflicts with Radeon ReLive, users are suggested to disable XBOX™ DVR if Radeon ReLive is experiencing issues.
Radeon ReLive may fail to install on AMD APU Family products or experience a system hang or failure to record when using the recording feature on AMD APU Family products.
Radeon ReLive may intermittently fail to work after performing task switches of applications. A work around is to disable and then enable the feature in Radeon Software.
Radeon ReLive may exhibit corruption in recordings when capturing Microsoft Office applications.
Radeon ReLive may experience recording or streaming issues when task switching using ALT+TAB.

File Size: 475MB

Windows 7 (64-bit)
AMD Radeon Software Crimson Edition 17.4.3 Driver for Windows® 10 64-bit​
17.10.1711

Article Number: RN-WIN-RADEONCRIMSONRELIVE-17.4.3

​Radeon Software Crimson ReLive Edition is AMD's advanced graphics software for enabling high-performance gaming and engaging VR experiences. Create, capture, and share your remarkable moments. Effortlessly boost performance and efficiency. Experience Radeon Software with industry-leading user satisfaction, rigorously-tested stability, comprehensive certification, and more.

Radeon Software Crimson ReLive Edition 17.4.3 Highlights

Support for Windows®10 Creators Update.
Support for Radeon RX 580 Series Graphics.
Support for Radeon RX 570 Series Graphics.

Known Issues

Radeon WattMan may fail to apply settings on some Radeon R9 390 series graphics products.
Radeon Settings may crash on switching Windows® user after toggling AMD CrossFire™ technology mode.
A small amount of apps may still experience issues with Borderless Fullscreen mode and AMD FreeSync™ technology if other applications or game launchers are running on the primary screen in the background.
Counter-Strike™: Global Offensive and World of Warcraft™ may experience flickering or performance issues the first time the game is launched on a system boot with AMD FreeSync™ technology enabled. Workarounds include exiting and restarting the application or task switching (alt+tab) in and out of the game to fix the issue.

Known Issues for Radeon ReLive

The XBOX™ DVR application may cause conflicts with Radeon ReLive, users are suggested to disable XBOX™ DVR if Radeon ReLive is experiencing issues.
Radeon ReLive may fail to install on AMD APU Family products or experience a system hang or failure to record when using the recording feature on AMD APU Family products.
Radeon ReLive may intermittently fail to work after performing task switches of applications. A work around is to disable and then enable the feature in Radeon Software.
Radeon ReLive may exhibit corruption in recordings when capturing Microsoft Office applications.
Radeon ReLive may experience recording or streaming issues when task switching using ALT+TAB.

File Size: 514MB

Windows 10 (64-bit)
Utility
SAPPHIRE TriXX OC Utility
v6.4.0

Added support for Radeon RX500 Series.
Added power & stealth mode function for RX 500 series. In power mode you gain higher performance for more demanding gaming experience , in stealth mode we bring you balance in gaming experience and power saving.
Fixed fan control in CrossFire mode.
Fixed fan test in CrossFire mode.

File Size: 2MB

Windows 7 (32-bit) Windows 7 (64-bit) Windows 8.1 (32-bit) Windows 8.1 (64-bit) Windows 10 (32-bit) Windows 10 (64-bit)