SAPPHIRE Radeon™ VII 16G HBM2
AMD Radeon™ VII Graphics: Pure Performance. Extreme Gaming.
Radeon™ VII graphics are designed for pure performance, allowing gamers to dominate games by turning on max settings to get extreme framerates at the highest resolutions.
As the world's first 7nm gaming GPU, Radeon™ VII takes graphics design to the next level. With 16GB of 2nd generation HBM2 memory, Radeon™ VII graphics deliver forward-looking technology to advanced, next-generation games with ultra high quality visuals. Groundbreaking 1 TB/s memory bandwidth paves the way for ultra high resolution textures, hyper-realistic settings and life-like characters to bring graphics-intensive gaming to life.
The world's first 7nm gaming GPU with 16GB Memory
Extreme Gaming/Extraordinary Creation
Unleash pure performance and extreme gaming
With Radeon™ VII graphics you can achieve seamless, high refresh, HDR gaming at 1080p, 1440p and 4K or power the next generation photo and visual creation applications on razor sharp, vibrant 8k monitors. State-of-the-art Radeon™ Software brings exceptional gamer-centric features, along with highly personalized intuitive out-of-box gaming experiences.
Radeon™ VII graphics is the most powerful graphics processor we have ever built for the world's most popular eSport and AAA games.
Radeon FreeSync™ 2 Technology :
550+ FreeSync displays available
Experience a breakthrough in PC gaming performance by combining the powerful Radeon™ VII graphics with a Radeon FreeSync™ technology gaming monitor. Delve into the largest gaming display ecosystem with Radeon FreeSync™ technology or Radeon FreeSync™ 2 HDR2 – AMD Radeon FreeSync™ technology is compatible with a massive range of smooth and stutter-free monitors and TVs to fit the needs of gamers at every level.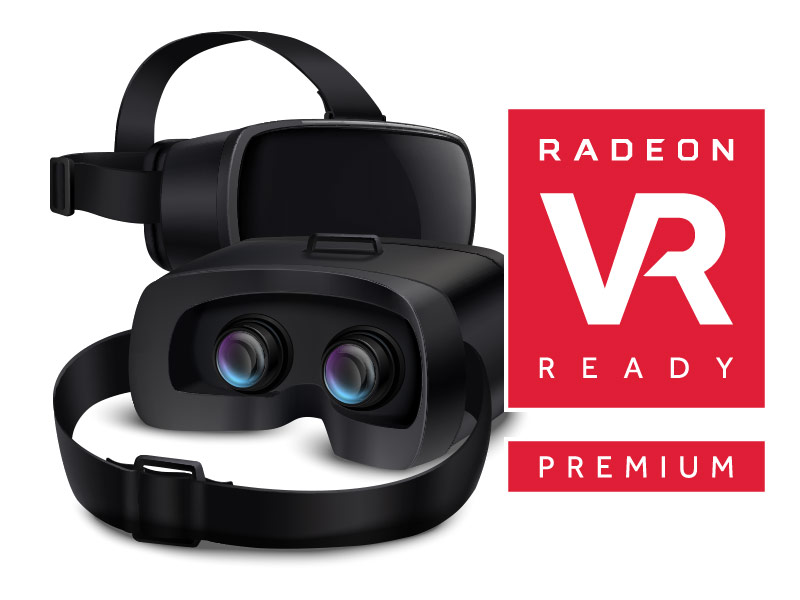 Immersive, Interactive, Intuitive VR Experiences
Escape into lifelike realms of virtual reality experiences with Radeon VR Ready Premium solutions which are select Radeon GPUs that meet or exceed the Oculus Rift or HTC Vive recommended specifications for graphics cards.
---
DirectX® 12

DirectX® 12 is a new, "console-like" graphics API from Microsoft® that empowers game developers with more direct and obvious control of PC hardware. This direct or "explicit" control better exposes the hardware resources of AMD Radeon™ GPUs to yield higher hardware throughput and, ultimately, more performance for users. To put it simply: much more efficient hardware through smarter software! At the discretion of a game developer, this superior efficiency can be spent on higher framerates, lower latency (VR), lower power consumption, better image quality, or some calculated balance of all four. In any scenario, gamers stand to benefit greatly from choosing AMD hardware to run their favorite DirectX® 12 game.
---
GPU
3840 Stream Processors
60 CU
7 nm
1400 MHz Engine Clock
1750 MHz Boost Engine Clock
Interface
PCI-Express X16
Memory
4096 bit Memory Bus
HBM2 Memory Type
1000 MHz, Effective 2000
16 GB Size
BIOS Support
UEFI BIOS
Displays
Maximum 4 Outputs
Output
1 x HDMI 2.0b
3 x DisplayPort 1.4

Resolution
5120*2880 Pixel DisplayPort Resolution
4096*2160 HDMI Resolution
API
DirectX® 12

Feature
FreeSync2 Technology
DirectX™ 12 Optimized
Radeon VR ready Premium
Radeon Relive
Radeon Wattman

Cooling
Triple fans

Form Factor
2 Part Slot Occupied
268(L) x 120(W) x 42(H) Dimension /mm
Power Consumption
300W
OS
Windows 10 Windows 7 
Support 64-bit only
System Requirement
650 Watt Power Supply (Suggestion)
1 Available PCI-Express X16 Slot
8192 MB Minimum of system memory
2 x 8-pin AUX Power Connector

Specifications provided here are for guidance only. Please check with your regional distributor or dealer for latest specifications.
Colors of PCB or other components may differ from those illustrated.
SAPPHIRE reserves the right to update or revise specifications without prior notice.
All trademarks and logos are acknowledged as the property of their respective holders.
*The terms HDMI, HDMI High-Definition Multimedia Interface, and the HDMI Logo are trademarks or registered trademarks of HDMI Licensing Administrator, Inc.