SAPPHIRE Radeon™ RX Vega64 8G HBM2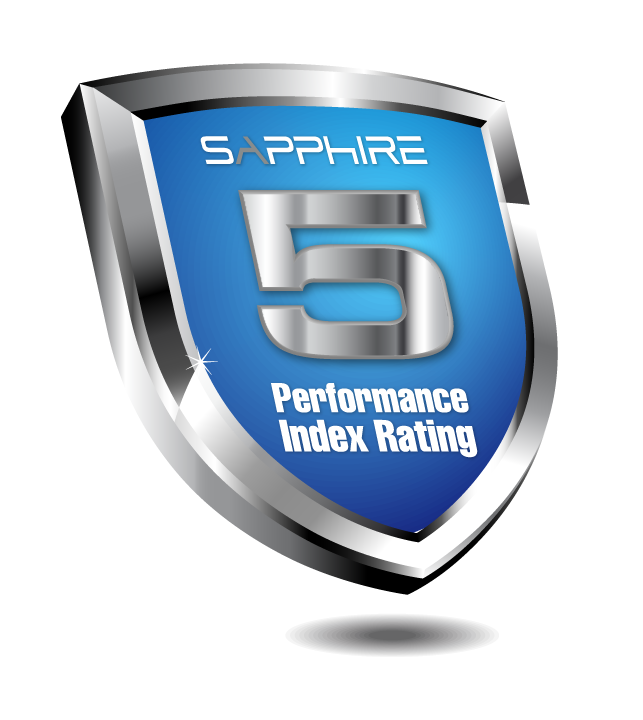 The SAPPHIRE RADEON RX VEGA 64 8G has been built with the extreme gamer in mind. Step up to next generation of immersive gaming and lose yourself in the greatest high-end gaming and virtual reality experiences. Escape inside the latest graphically intensive games with high framerates, ultrawide immersion, and Ultra HD resolutions. The SAPPHIRE Radeon RX VEGA 64 8G is built with an extensively redesigned and forward-thinking GPU architecture to deliver exhilarating performance in the newest DirectX® 12 and Vulkan® games. Crank up your graphics quality and bring out every detail at incredible resolutions, power the latest displays and play in lifelike HDR. Stream your gameplay for the world, and record your highlights all at the same time with virtually no performance loss.
DirectX® 12

DirectX® 12 is a new, "console-like" graphics API from Microsoft® that empowers game developers with more direct and obvious control of PC hardware. This direct or "explicit" control better exposes the hardware resources of AMD Radeon™ GPUs to yield higher hardware throughput and, ultimately, more performance for users. To put it simply: much more efficient hardware through smarter software! At the discretion of a game developer, this superior efficiency can be spent on higher framerates, lower latency (VR), lower power consumption, better image quality, or some calculated balance of all four. In any scenario, gamers stand to benefit greatly from choosing AMD hardware to run their favorite DirectX® 12 game.
---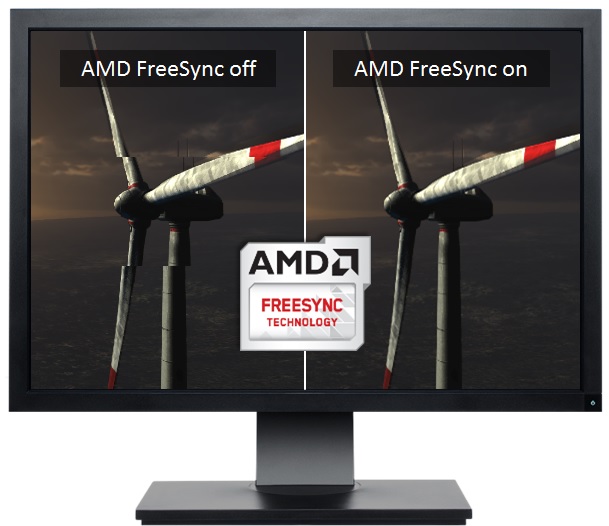 AMD Freesync technology
No stuttering. No tearing. Just gaming.
AMD FreeSync™ technology allows a compatible graphics card and monitor to dynamically change frame rates for the optimum display quality without tearing or stuay.
Industry-Standard Displayport
Freesync uses industry-standard displayport Adaptive-Sync Eliminates screen tearing without all the usual lag and latency
Synchronizes the refresh rate of a compatible monitor to the frame rate of your content, however much it varies
Monitor partners are validating with drivers from AMD now
---
Preparada para AMD XConnect
Conéctela y juegue con la tecnología XConnect de AMD.
Ahora es más fácil que nunca conectar una tarjeta gráfica Radeon™ externa. Con la tecnología XConnect™ de AMD, gráficos externos Radeon™ pueden ser fácilmente conectados y desconectados en notebooks ultrdelgadas o 2-en-1 por el puerto Thunderbolt™ 3 en cualquier momento, igual que con un pen drive USB —por primera vez con gráficos externos!
---
AMD Eyefinity Technology
Multidisplay technology for gaming, productivity and entertainment
We are taking you beyond the boundaries of traditional PC displays. AMD Eyefinity technology expands the traditional limits of desktop computing by multiplying your screen area. With multiple monitors, games become more immersive, workstations become more useful and you become more productive (an average of 42% more productive according to one study).
Take your PC games to the next level of reality and immersion. Most modern games look great on three screens, and only AMD Radeon™ graphics offer you the ability to play across five screens for an eye-popping gaming experience. Other combinations and configurations with up to six screens work too.1 Create your dream display.
---
AMD Crossfire™
Harness the power of multiple GPUs
AMD CrossFire™ technology is the ultimate multi-GPU performance gaming platform. Unlocking game-dominating power, AMD CrossFire™ harnesses the power of two or more discrete graphics cards working in parallel to dramatically improve gaming performance.1 AMD CrossFire™ technology ready graphics cards fit practically every budget. With the flexibility to combine two, three or four GPUs, AMD CrossFire™ technology is the perfect solution for those who demand extreme performance.
---
Introducing AMD LiquidVR
LiquidVR™ is an AMD initiative dedicated to making VR as comfortable and realistic as possible by creating and maintaining what's known as "presence" — a state of immersive awareness where situations, objects, or characters within the virtual world seem "real." Guided by close collaboration with key technology partners in the ecosystem, LiquidVR™ uses AMD's GPU software and hardware sub-systems to tackle the common issues and pitfalls of achieving presence, such as reducing motion-to-photon latency to less than 10 milliseconds. This is a crucial step in addressing the common discomforts, such as motion sickness, that may occur when you turn your head in a virtual world and it takes even a few milliseconds too long for a new perspective to be shown.

---
Súper Resolución Virtual
La Súper Resolución Virtual (VSR) es una característica de AMD que permite simular el filtro Super-Sampling Anti-Aliasing (SSAA) en juegos que no tienen soporte SSAA nativo. VSR también puede ser utilizado en juegos en conjunto con otros filtros nativos anti-aliasing. VSR permite renderizar en alta resolución (hasta en 4K; consultar la tabla 'Virtual Super Resolution Support' para más información) y luego bajar la resolución para las pantallas que no soporten 4K. Gracias a esto se puede lograr una calidad de imagen en tus juegos favoritos que compite con 4K, incluso en pantallas 1080p.
---
GPU
4096 Stream Processors
14 nm FinFET
1546 MHz Reloj del GPU Boost
Interfaz
PCI-Express 3.0
Memoria
2048 bit Bus de Memoria
HBM2 Tipo de Memoria
945 MHz Reloj de la Memoria
Tamaño 8 GB
Soporte BIOS
UEFI BIOS
Pantallas
Máxima 4 Salidas
Salidas
1 x HDMI 2.0b
3 x DisplayPort 1.4

Resolución
5120×2880(60Hz) Pixel de Resolución DisplayPort
4096×2160(60Hz) de Resolución HDMI
API
OpenGL® 4.5
OpenCL 2.0
DirectX® 12
Shader Model 5.0
Características
Tecnología AMD CrossFire
Tecnología FreeSync
Tecnología AMD Eyefinity
Quad HD Display (Soporte 4K*2K)
BIOS Dual
Tecnología AMD Liquid VR
AMD TrueAudio™ Next Technology
AMD Xconnect ready
Decodificador Universal de Video (UVD)
DirectX™ 12 Optimized
Radeon VR ready Premium
Radeon Chill
Radeon Relive

Enfriamiento
Blower
Rulemán doble

Formato
2.0 ranuras ocupadas
10.7(L)X 4.4(W)X 1.6 (H) Dimensiones /Inch
272(L)X 112(W)X 40 (H) Dimensiones /mm
Consumo Energético
Sistema Operativo
Windows 10 Windows 7 
Requerimientos del Sistema
750 Watt Fuente de Alimentación (Sugerido)
2 x Conector de Alimentación AUX de 8-pines
Un sistema operativo de 64-bits es altamente recomendado
Un reproductor de CD-ROM or DVD-ROM para instarlar el software
Se requiere una PC con una ranura PCI Express® X16 disponible en el motherboard.

Estas especificaciones son solamente una guía. Por favor contáctese con su distribuidor local para las más nuevas especificaciones.
Los colores del PCB u otros componentes pueden diferir de la ilustración
SAPPHIRE se reserva el derecho de actualizar o revisar las especificaciones sin previo aviso.
Todas las marcas comerciales y logos son propiedad de sus respectivos dueños.
*The terms HDMI, HDMI High-Definition Multimedia Interface, and the HDMI Logo are trademarks or registered trademarks of HDMI Licensing Administrator, Inc.
Controlador Oficial AMD Radeon
Obtenga la última utilidad oficial de controlador AMD Radeon
Última Versión
Se recomienda a los sistema con Microsoft Windows obtener los últimos controladores gráficos oficiales de AMD. Haga click en el link de descarga y se abrirá una ventana en su navegador. Seleccione la opción RUN.
Windows Vista Windows 7 Windows 8/8.1 Windows 10
AMD Radeon Software
Radeon Software Adrenalin Edition 18.3.1 Driver for Windows® 10 64-bit​
17.50.27.01

Article Number: RN-WIN-RADEONADRENALIN-18.3.1

Radeon Software Adrenalin Edition 18.3.1 Highlights

Support For

Final Fantasy® XV
Warhammer®: Vermintide II
DOTA®2

Up to 6% faster FPS using Radeon Software Adrenalin Edition 18.3.1 on the Radeon™ RX 580 (8GB) graphics card than with Radeon Software Adrenalin Edition 17.12.1 at 3840x2160 (1440p).RS-218

Fixed Issues

Radeon Chill hotkey may fail to reset when Radeon Settings is restored to defaults.
Sea of Thieves™ may experience an intermittent application hang or crash during gameplay.
Middle-earth™: Shadow of War may experience texture flickering on trees or hills when using multi GPU enabled system configurations.
World of Tanks™ may experience color corruption when changing some game settings in multi GPU enabled system configurations.

Known Issues

A random system hang may be experienced after extended periods of use on system configurations using 12 GPU's for compute workloads.
Destiny 2™ may experience an application hang in the mission "Heist" on some Radeon GCN1.0 products.
Destiny 2™ may experience long load times when the application has been open for long periods of time.
Radeon Overlay may intermittently fail to enable when toggled in some games.
FFmpeg application may experience corrupted output for H264 video streams.
Resizing Radeon Settings may cause the window to intermittently stutter.
Final Fantasy® XV may experience minor stutter during some particle effects. A workaround is to disable the "Geomapping" setting in game.

Footnotes

Testing conducted by AMD Performance Labs as of March 1st, 2018 on the 8GB Radeon RX 580, on a test system comprising of Intel i7 7700K CPU (4.2GHz), 16GB DDR4-3000 Mhz system memory, and Windows 10 x64. PC manufacturers may vary configurations, yielding different results. With Ultra settings on Dota 2 at 3840x2160, the Radeon RX 580 scored 95.9 FPS with Radeon Software 18.3.1 whereas the Radeon RX 580 scored 90.8 FPS with Radeon Software 17.12.1. Comparing FPS between software versions, Radeon Software 18.3.1 has 6% faster performance in Dota 2. Performance may vary based on use of latest drivers. RS-218

File Size: 337MB

Windows 10 (64-bit)
Radeon Software Adrenalin Edition 18.3.1 Driver for Windows® 7 64-bit
17.50.27.01

Article Number: RN-WIN-RADEONADRENALIN-18.3.1

Radeon Software Adrenalin Edition 18.3.1 Highlights

Support For

Final Fantasy® XV
Warhammer®: Vermintide II
DOTA®2

Up to 6% faster FPS using Radeon Software Adrenalin Edition 18.3.1 on the Radeon™ RX 580 (8GB) graphics card than with Radeon Software Adrenalin Edition 17.12.1 at 3840x2160 (1440p).RS-218

Fixed Issues

Radeon Chill hotkey may fail to reset when Radeon Settings is restored to defaults.
Sea of Thieves™ may experience an intermittent application hang or crash during gameplay.
Middle-earth™: Shadow of War may experience texture flickering on trees or hills when using multi GPU enabled system configurations.
World of Tanks™ may experience color corruption when changing some game settings in multi GPU enabled system configurations.

Known Issues

A random system hang may be experienced after extended periods of use on system configurations using 12 GPU's for compute workloads.
Destiny 2™ may experience an application hang in the mission "Heist" on some Radeon GCN1.0 products.
Destiny 2™ may experience long load times when the application has been open for long periods of time.
Radeon Overlay may intermittently fail to enable when toggled in some games.
FFmpeg application may experience corrupted output for H264 video streams.
Resizing Radeon Settings may cause the window to intermittently stutter.
Final Fantasy® XV may experience minor stutter during some particle effects. A workaround is to disable the "Geomapping" setting in game.

Footnotes

Testing conducted by AMD Performance Labs as of March 1st, 2018 on the 8GB Radeon RX 580, on a test system comprising of Intel i7 7700K CPU (4.2GHz), 16GB DDR4-3000 Mhz system memory, and Windows 10 x64. PC manufacturers may vary configurations, yielding different results. With Ultra settings on Dota 2 at 3840x2160, the Radeon RX 580 scored 95.9 FPS with Radeon Software 18.3.1 whereas the Radeon RX 580 scored 90.8 FPS with Radeon Software 17.12.1. Comparing FPS between software versions, Radeon Software 18.3.1 has 6% faster performance in Dota 2. Performance may vary based on use of latest drivers. RS-218

File Size: 461MB

Windows 7 (64-bit)
AMD Radeon Software Crimson Relive Edition 17.11.1 Driver for Windows® 7 64-bit​
17.40.1031

Bullets for the new driver:

12 GPU support
Software switch for Blockchain compute vs. Gaming optimized performance.
Continuous performance improvements

Article Number: RN-WIN-RADEONCRIMSONRELIVE-17.11.1

​​​Radeon™ Software Crimson ReLive Edition is AMD's advanced graphics software for enabling high-performance gaming and engaging VR experiences. Create, capture, and share your remarkable moments. Effortlessly boost performance and efficiency. Experience Radeon Software with industry-leading user satisfaction, rigorously-tested stability, comprehensive certification, and more.

Radeon Software Crimson ReLive Edition 17.11.1 Highlights

Support For

Call of Duty®: WWII

Up to 5% faster performance on Radeon™ RX Vega64 (8GB) graphics than with Radeon Software Crimson ReLive Edition 17.10.3 at 2560x1440. (1)

AMD XConnect™ Technology

Now supported on Radeon RX Vega56 series graphics products for select eGPU enclosures.

Fixed Issues

Radeon Software may intermittently cause an application crash on limited numbers of DirectX®11 or OpenGL applications on their first run.
Some gaming or productivity applications may experience a random hang or application crash when performing task switching.
Radeon WattMan reset and restore factory default options may not reset graphics or memory clocks.
​Oculus™ Dash may experience a random application hang.
Bezel compensation in mixed mode Eyefinity cannot be applied.
Radeon Settings may experience overlapping text or corruption in the Multi GPU profiles page.
Tom Clancy's Ghost Recon®: Wildlands may experience minor corruption with Anisotropic Filtering (AF) enabled.
Middle-earth™: Shadow of War™ may experience ghosting or distortion in gameplay on Multi GPU enabled system configurations.
AMD XConnect™ Technology products may not be detected/enabled on reconnection if previously disconnected during system sleep
A limited number of system devices such as printers may be removed during Radeon Software uninstallation.

Known Issues

Some desktop productivity apps may experience latency when dragging or moving windows.
Tom Clancy's Rainbow Six® Siege may experience an application hang when breaching walls with grenades or explosives.
Rise of the Tomb Raider™ may experience an intermittent application hang during gameplay.
A random system hang may be experienced after extended periods of use on system configurations using 12 GPU's for compute workloads.
The GPU Workload feature may cause a system hang when switching to Compute while AMD CrossFire is enabled. A workaround is to disable AMD CrossFire before switching the toggle to Compute workloads.
Resizing the Radeon Settings window may cause the user interface to stutter or exhibit corruption temporarily.
Unstable Radeon WattMan profiles may not be restored to default after a system hang.
OverWatch™ may experience a random or intermittent hang on some system configurations. Disabling Radeon ReLive as a temporary workaround may resolve the issue.

Footnotes

​

Testing conducted by AMD Performance Labs as of November 1st, 2017 on the 8GB Radeon RX Vega64, on a test system comprising of Intel i7 7700X CPU (4.2 GHz), 16GB DDR4-3000 Mhz system memory, and Windows 10 x64 using the game Call of Duty®: WWII on the highest game presets. PC manufacturers may vary configurations, yielding different results. At 2560x1440, the Radeon RX Vega64 scored 120.6 FPS with Radeon Software 17.10.3 whereas the Radeon RX Vega64 scored 129.6 FPS with Radeon Software 17.11.1. Performance may vary based on use of latest drivers.(1)

Package Contents


The Radeon Software Crimson ReLive Edition 17.11.1 installation package contains the following:

Radeon Software Crimson ReLive Edition 17.11.1 Driver Version 17.40.1031 (Windows Driver Store Version 23.20.788.0​)

File Size: 440MB

Windows 7 (64-bit)
Mostrar todo Descargar