SAPPHIRE GearBox Thunderbolt™ 3 eGFX Expansion Chassis Boosts Application Performance for Professionals' and Gamers'

Recommended by Apple®, SAPPHIRE's GearBox is qualified to connect High Performance GPUs' from AMD and Nvidia to Thunderbolt™3 equipped computers.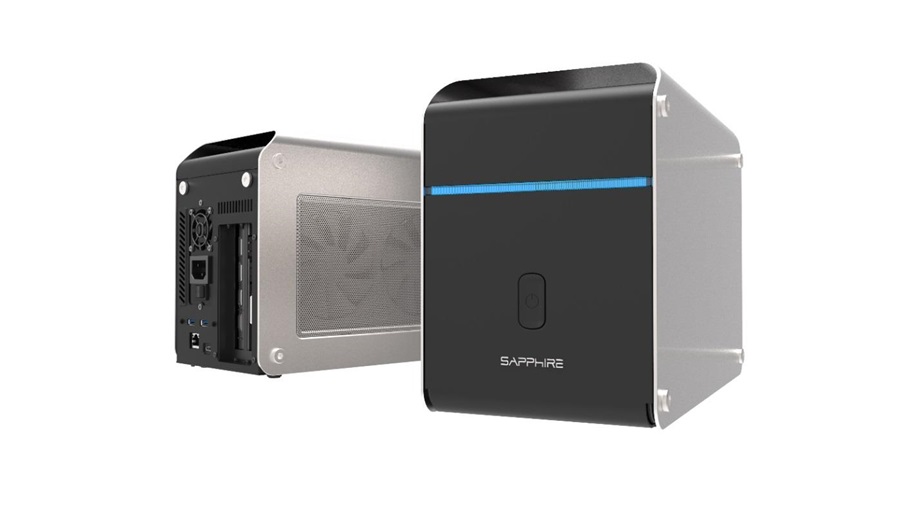 November 29th, 2018 – SAPPHIRE Technology a leading manufacturer of Graphics card solutions for the Gaming and Commercial markets today announced the SAPPHIRE GearBox Thunderbolt™3 to PCI-Express eGFX Expansion Chassis. The GearBox connects powerful graphics cards to significantly improve the performance of Thunderbolt™3 ready devices including Mac Pros' Ultrabooks' and Small Form Factor Computers. It has been designed for users that need the performance boost to run bandwidth intensive applications such as professional software and the latest AAA games.
Enabling owners of light weight and highly portable laptops to convert their devices into powerful productivity and gaming systems with unprecedented performance; the GearBox's stylish small form factor design can accommodate up to a 300W full length PCI-Express x16 Graphics Cards from both AMD and Nvidia's consumer and professional GPU families.
The SAPPHIRE GearBox is an Apple® recommended eGFX Expansion chassis. When combined with one of SAPPHIRE's award winning NITRO+ or PULSE graphics cards, users will reap the benefits of Intelligent Cooling Solutions that deliver lower PCB temperatures, minimum noise and maximum stability. SAPPHIRE graphics cards are renowned in the industry for pushing the boundaries of performance, innovation and engineering quality.
The versatile GearBox comes equipped with a maximum 40 Gb/s Thunderbolt™3 port that can connect to laptops or small form factor computers boosting productivity performance to the next level and experiencing the full capability of the powerful discrete graphics card. The GearBox has PD Charging (Power Delivery Charging) which is capable of fully charging a laptop of up to 60 Watts. Furthermore, it features Gigabit Ethernet to enable high speed internet via the LAN port, and dual USB ports that provide additional connections for USB devices used for data transfer or peripherals such as keyboards and mice.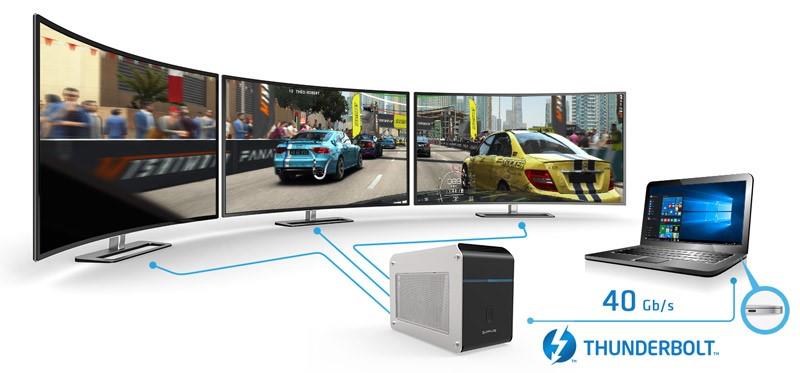 The SAPPHIRE GearBox Thunderbolt™3 eGFX Expansion Chassis is available as a barebone system from selected SAPPHIRE e-tailers' and retailers' worldwide with an MSRP of $339.00 USD
SAPPHIRE is offering a special price combo for purchases of a GearBox with one of the following SAPPHIRE Graphics cards:
SAPPHIRE GEARBOX W/ NITRO+ RADEON RX 580 8G COMBO

SAPPHIRE GEARBOX (W/ NITRO+ RADEON RX 580 4G COMBO

SAPPHIRE GEARBOXW/ PULSE RADEON RX 580 8G COMBO
More information about the SAPPHIRE GearBox and SAPPHIRE's other Thunderbolt™3 products is available at http://www.sapphirepgs.com/productdetail.asp?IDno=121&lang=eng
Visit the SAPPHIRE Nation Blog to read some really cool content and join our SAPPHIRE Nation Community.
Specifications:
PC Connectivity

Thunderbolt™ 3 using 40Gbps cable

Enclosure Dimensions

300mm x 138mm x 204mm / 11.8" x 5.43" x 8.03" (L/W/H)

GPU Support
(Graphics Cards
are not included)

| | |
| --- | --- |
| GPU Type | Single / Double Slot, Full Length, PCI-Express x16 Graphics Cards |
| GPU Max. Dimension | 266 mm (L) x 125 mm (H) / 10.5" (L) x 4.9" (H) |
| GPU Max. Power support | 300 Watts |
| Graphics Outputs | Depends on the capabilities of installed graphics card |

PCI-Express Bus

PCI-Express x16 Gen 3.0

Input

Thunderbolt™ 3 (USB-C for connection to PC)

Outputs

2 x USB 3.0, Gigabit Ethernet 10/100/1000

Internal Power Supply

500 Watts
About SAPPHIRE Technology
SAPPHIRE Technology is a leading manufacturer and global supplier of innovative components and solutions for PC systems for both consumer and professional applications. From its origins in the design and manufacture of state-of-the-art graphics add-in boards, the extensive SAPPHIRE product range has grown to include a broad range of professional and embedded products. Founded in 2001, SAPPHIRE is a privately held global company headquartered in Hong Kong.
SAPPHIRE Technology is dedicated to maintaining a relationship with our community of customers and PC enthusiasts, by being present and active on various social network channels including Facebook, Steam, and YouTube.